Energy Storage and Dissipation (PEP 6)
These are the Energy Storage and Dissipation Notes 1-12 (PEP 6), assembled by Dr. Carl E. Baum.
Search is simple: just type whatever comes to mind in the search box, hit Enter or click on the Google Search button, and Google will search the entire Summa Website for pages or documents that are relevant to your query. For more information about using the search box, please click here.
If you happen to notice any typos, bad links, or improperly scanned papers that are in need of repair, please e-mail your suggestions to Chuck Reuben at
shawnee@unm.edu
and your concerns will be promptly addressed.
ESDN 1, Not Currently Available

ESDN 2, R. L. Davis, Design Formula for Non-Reactive High-Voltage Pulse Resistors, Sep 65, Sandia Corp.

ESDN 3, C. R. Lennox, Experimental Results of Testing Resistors Under Pulse Conditions, Nov 67, Sandia Corp.
ESDN 4, J. C. Martin, Measurement of the Conductivity of Copper Sulfate Solutions, 22 Jul 66, Atomic Weapons Research Establishment
ESDN 5, R. D. Kelly, Preparation of Resistors Using a Low-Temperature- Coefficient-of-Resistance Electrolyte, Jan 64, Sandia Corp.
ESDN 6, G. P. Boicoirt, Problems in the Design and Manufacture of Energy Storage Capacitors, Jun 68, Los Alamos Scientific Labs
ESDN 7, T. J. Gooding and B. R. Hayworth, Development of High Voltage Mylar Capacitors, Mar 67, Maxwell Laboratories
ESDN 8, P. Hoffman and J. Ferrante, Energy Storage Capacitors of High Energy Density, Apr 71, Maxwell Laboratories
ESDN 9, I. G. Halliday, Design of a Disk-Type Maylar Capacitors, Aug 70, Ion Physics Corp.
ESDN 10, D. V. Giri and C. E. Baum, High-Frequency Capacitors, 15 Mar 90, Pro-Tech, Air Force Weapons Laboratory
EDSN 11, A.W. Kalin, B.R. BraDdli and D.V. Giri, Development and Characterization of High Frequency Capacitors, July 4, 94, Defence Technology and Procurement Agency, Pro-Tech.
ESDN 12, C.E. Baum, High-Dielectric-Constant Materials as High-Frequency Capacitors, 17 Nov. 2003, AFRL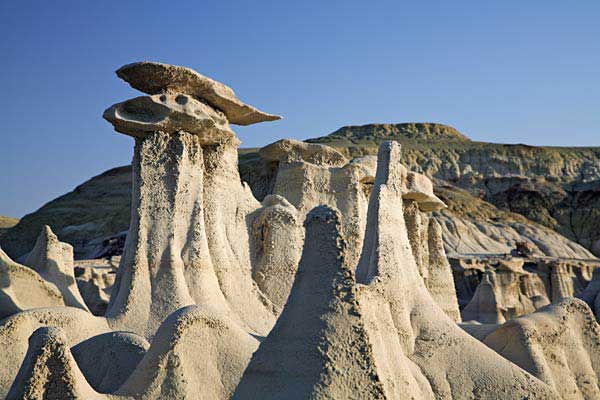 "Mushroom" Rocks, Bisti Wilderness Area, New Mexico. Photo by Efraín M. Padró

Typos? Corrections? Suggestions? Contact Webmaster Here!
Last Updated October 25, 2015 Electrical and Computer Engineering Department • The University of New Mexico.
"All published Notes are approved for public release and their distribution is unlimited."