Microsoft Teams
User Instruction for Microsoft Team
Microsoft Team:
1. https://teams.microsoft.com/downloads

2. Sign in using UNM account.

3. Schedule a meeting >> on the calendar.

4. Select 'Chat' option from the Column >> New chat >> Enter the list of participants (UNM address).

5. After adding >> select the 'Video Call' option.

6. Select more options >> share screen >> start recording.

7. Before finishing the lecture >> stop the recording >> disconnect the session.

8. The recorded video will be saved in Microsoft Stream application.

9. From there the instructors/students can easily upload/share the video.
Microsoft Stream (to download/share the recorded video)
1. Go to lobo mail through any browser

2. Select Stream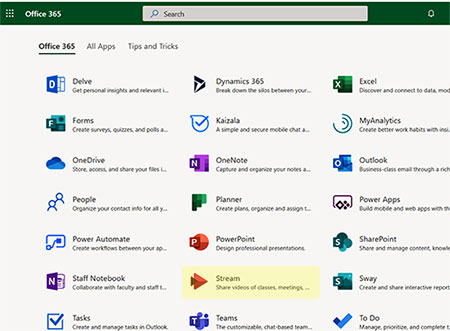 3. Check my content for the recorded Microsoft Team Video

4. You can find the recoded video and sharing and editing options are available.
---
Fast Video Sharing Using Microsoft Stream
A fast way to share videos is to use Microsoft Stream.
The steps are:
Login into lobo mail

Click on more Apps

Select Stream

Click on Upload Video

On permission tab, select my group

Create group

Cut/paste & add all the students email address ( don't forget to deselect 'all the members to contribute' option)

Click create, publish, and wait for some till it gets published.

Click on Share and copy the Web link for sharing with the students
---
Rick Robb leaves us this comment (thanks, Rick!):
I wanted to throw in my review of Microsoft Teams:  
NOTE: I haven't used this in a classroom setting, however if I were to teach another online class in the future, I would certainly use this app to communicate with students, at the least for one-on-one video conferencing.

My team began using this app because Skype For Business was no longer available for Mac. We now use this primarily to stay in contact – mostly by regular chat –  throughout the day and to deliver progress reports, but we've also done a few video chat experiments. The quality has been pretty good so far. 

 Users can easily create "teams" with channels as well as just a general chat feature. Teams allows voice and video calls. The regular chat feature is nice because it allows text-formatting, attachments, links, etc. Something else I like is that users can go back and edit their posts so we're no longer stuck looking lame because of a typo.

Finally, the fact that this is linked to our Office 365 account means everything works together. There is a collection of add-on apps that can be added for further functionality. Several of us have been using the phone app and it works great, too, even for video chatting. I have not used it for LARGE meetings, but I think instructors might like it for virtual office hours.