Microwave Memos
These are the Microwave Memos, (Memos 1-23), assembled by Dr. Carl E. Baum.
Search is simple: just type whatever comes to mind in the search box, hit Enter or click on the Google Search button, and Google will search the entire Summa Website for pages or documents that are relevant to your query. For more information about using the search box, please click here.
If you happen to notice any typos, bad links, or improperly scanned papers that are in need of repair, please e-mail your suggestions to Chuck Reuben at
shawnee@unm.edu
and your concerns will be promptly addressed.
Memo 1, C.E. Baum, A Rational Approach to the Development of an HPM Weapon, 22 Oct 1988

Memo 2, C.E. Baum, The Phaser, 14 Nov 1988

Memo 3, C.E. Baum, The Microwave-Oven Theorom: All Power to the Chicken, June 1991

Memo 4, C.E. Baum, Preliminary Near-Term Criterion for Single-Pulse HPM. 26 Jul 1991

Memo 5, C.E. Baum, D.V. Giri, Mark N. Phaser, 4 Feb 1992

Memo 6, D.V. Giri, Y. Rahmat-Samii, Mark O. Phaser, 1 May 1992

Memo 7, D.V. Giri, Y. Rahmat-Samii, Useful Future Experiments for HPM Radiation Systems, 7 Aug 1992

Memo 8, B.P. Roemer, Looking for Substitutes Typical Explosives in Microwave Tests, 14 Jun 1993

Memo 9, C. E. Baum, Phaser Utilizing a Half Reflector and Ground Plane, 15 July 2000

Memo 10, C.E. Baum, The Dispatcher, 31 July 2000

Memo 11, C.E. Baum, The Electric-Dipole-Fed Reflector, 19 October 2000

Memo 12, C.E. Baum, Changing Pattern of 95 GHZ Reflector Antenna, 15 April 2003

Memo 13, C.E. Baum, Backscattering of Horizontally Polarized Electromagnetic Wave from a Wire on or near the Ground Surface, 19 Nov. 2003

Memo 14, C.E. Baum, Vertically Polarized Wave for Exciting Differential Mode of Two Wires on or near the Ground Surface, 19 Nov. 2003

Memo 15, C.E. Baum, Current Induced on a Long Wire by an Electric Field Parallel to the Wire, 22 Nov. 2003

Memo 16, C.E. Baum, The EM Gauntlet, 22 Nov. 2003

Memo 17, C.E. Baum, The Crosseyed Waveguide Array, 28 Jan 2004

Memo 18, C.E. Baum, Crosseyed Array, 31 Jan 2004

Memo 19, C.E. Baum, Impedance of Detonator Wires, 01 Feb 2004

Memo 20, C.E. Baum, Resonance-Buildup Transmission-Line Oscillator, 10 Jan. 2004

Memo 21, C.E. Baum, Special Array for 200 MHz, 27 Nov 2003

Memo 22, C.E. Baum, Insertion of High Impedance at Output Switch to Reduce Loading on Oscillator Q(extension of Microwave Memo 20), 16 Feb. 2004

Memo 23, Andrey D. Andreev and Sohan L. Birla, Particle-in-Cell Modeling of Oven Magnetron: A Review, 14 November 2013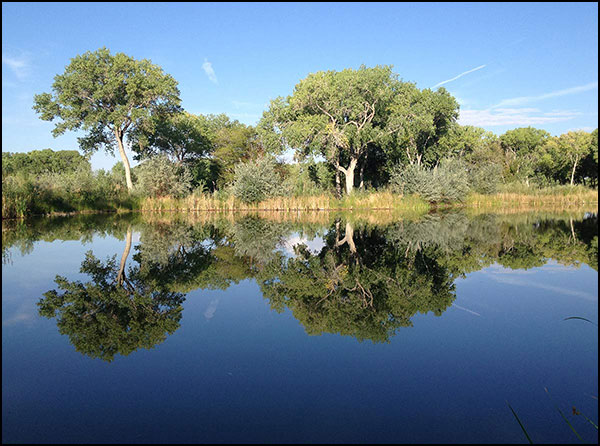 The Ponds at Tingley Beach in Albuquerque. Photo by Chuck Reuben

Typos? Corrections? Suggestions? Contact Webmaster Here!
Last Updated October 25, 2015 Electrical and Computer Engineering Department • The University of New Mexico.
"All published Notes are approved for public release and their distribution is unlimited."